Restaurants Need Site Surveys To Prepare Against Roaming Mobs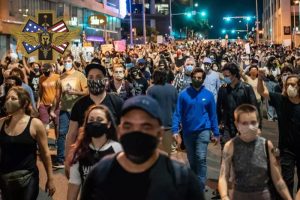 Restaurants have become key targets by mass demonstrations intent on harassing and disturbing patrons and commerce. While peaceful protests are legal, we have all seen the videos where all too often the mob feels emboldened and entitled to attack innocent customers, restaurant staff and management without warning. (Read More to download a helpful guide)
A HELPFUL GUIDE
Attached you will find a printable process sheet created by Restaurant Loss Prevention & Security Association to help restaurant, and many other business owners, prepare for the possibility of an attack on its premises.
Highlights of the planning include preparation in advance including conducting emergency lockdown drills with staff and contacting law enforcement, so everyone knows what they are supposed to do in case issues arise and can react immediately. It would be best for staff to discuss details at staff meetings and have management put everyone through their paces, including making sure trash areas are secure and emptied, testing of panic and alarm systems, and busing/removal of any dinnerware, glassware, removeable items and chairs from outside dining areas as quickly as possible. All of these items can become projectiles used against patrons or the building itself.
Well in advance it is recommended that facilities test their closed-circuit cameras and be prepared to turn over recordings to police for investigation. Coming up with a plan for employees to park off-site and shuttle to the location is also a good idea. Make any needed repairs to loose bricks, paving stones, etc. can remove the danger of their being used in an attack.
Bolt down trash bins or remove them entirely when notice of any demonstration occurs.
DURING A DEMONSTRATION
Making sure all combustibles are removed from outdoors is helpful. Have a plan to move everyone inside quickly, and lock the doors, turn off the marquee, and get back from any windows as a crowd passes the location. Make sure you patrol the exterior behind the restaurant as any racks, cans, or objects there could be used against you.
Document as much as possible without engaging irate mobs. Do not argue nor attempt physical engagement unless your life is in danger. Withdraw and lock out the perpetrators. Immediately report all crimes to police.
CONCLUSION
While it is not ideal and does not foster a pleasant experience for patrons and staff, during a crisis the best preparation can help alleviate damage and minimize mistakes in judgement. Know in advance how you will handle such events and make sure you communicate this in detail to all your staff.
If you would like an on-site survey by DPSGUS, helping corporations/restaurants and other retail locations is one of our specialties. We can point out every detail that requires attention and help you formulate your plan based on decades of experience. Call us at (833) 377-4871 to schedule an appointment for your review.