Jewelry Stores & Other Prime Crime Targets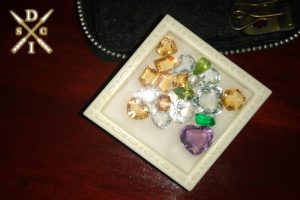 This report is from the Jewelers' Security Alliance but has implications for many types of businesses tempted to conduct transactions with unknown persons off premises.
"JEWELER LURED TO HOME FOR JEWELRY SALE
Henderson, NV; February 6, 2020″
"The suspect in the robbery, Joshua Nichols, 37, contacted a 67-year-old jeweler and lured him to a house to appraise and buy some jewelry. The suspect, accompanied by another man and woman, then robbed the jeweler at gunpoint of his personal jewelry, money, and cell phone. The suspect is the son of the 1995 Oklahoma City bombing accomplice Terry Nichols and was later arrested."
"Recommendation on doing business off-premises for any expensive items:"
"During this very difficult time for business, it may be tempting to conduct business outside the confines of a store. However, you must weigh the risks very carefully before you go to any location to meet an alleged customer. Going to an unfamiliar, deserted, or concealed location can present great and unacceptable risk."
Precautions Can Be Taken To Avoid Burglaries
As we are seeing here in Charlotte and the surrounding communities, robberies and burglaries continue, and criminals are taking advantage of government shutdowns of "non-essential" businesses. Often these stores have ATM's and tens of thousands of dollars of merchandise available. Their poor-quality video cameras also tend to make identification impossible other than to confirm that a robbery took place!
Standard door locks and lack of security film on primary entrances make it easy for thieves to rapidly enter, in many cases in broad daylight, and be gone in less than two minutes. Due to extended law enforcement response there is almost no chance of getting caught initially. Only extended follow up police work, or private investigation will result in identifying or capturing these criminals.
We advise the following: Have a RELIABLE security company review your video cameras for nighttime quality and placement; we need to see how they enter your store and any possible vehicles.
Get a free quote on security laminate for your entry doors. This film retains the glass after it is broken and maintains a barrier. Consider using a tinted film to restrict the view into the shop, making it less obvious what is there. It also protects items inside from fading.
Upgrade your alarm systems. New PUCK type alarms can be placed in safes and notify you of movement, high humidity, and other settings. The alerts are sent directly to your cell phone. Ensure your existing alarm is correctly set and you have not made convenient changes that undermine your alarm system. Also check that the monitoring of your system is up to standard and that the alarm company has the latest numbers of both you and your closest responding police department.
Call Dignitary Protection and Security Group now for a complete review of your security posture. Criminals are taking advantage of our continued disruptive situation and they are thinking about stealing from you now.
DPSG can conduct in-depth security examinations to make your life safer and more secure. Call us toll-free to arrange an appointment: (833) 377-4871.